Who We Are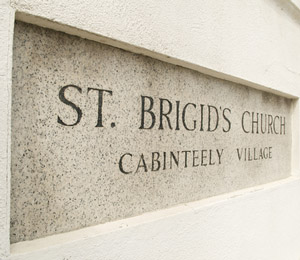 Welcome to St Brigid's Parish Cabinteely. Our aim is to provide our parishioners and visitors with information about the parish and the many ways to get involved in the community. We welcome your feedback and your willingness to become involved.
Watch Us Live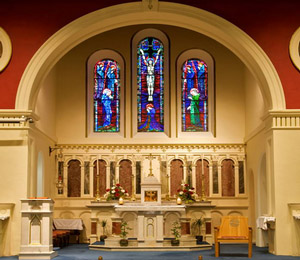 Whether you're house bound locally or living away from the parish, please join us via our live web cam link by clicking here






NEWS: St.Brigid's Way Cross We in St.Brigid's are planning to unveil our 4th St.Brigid's Way Cross in the Church patio area before December 25th. If you wish to purchase a brick with an engraving of your choice, please contact the Parish Office for a booking form. Bricks cost €100 each and it's a lovely way to remember family events – baptisms, weddings, anniversaries etc. Have a look at the three crosses in place already to get an idea!

If you know of anyone who is housebound and would like to receive Communion please contact one of the priests of the parish or the Parish office.



Cabinteely Adult Faith Development Strengthening the Soul – Advent Preparation Sean Goan is a well-known Scripture teacher and he will give two talks on St Matthew's Gospel on Mon 2 & 9 Dec – 7.30 – 9 pm. Cost: donation. All welcome
Other News :

Marie Keating Foundation A nurse from the Marie Keating Foundation will give a second talk in the Parish Centre on Cancer Awareness, as follows: Cancer Awareness – Talk for men Wed 27th Nov – 7.30 pm. Willow room www.getmentalking.ie 'Less frightening by enlightening'

Altar Lists of the Dead Each First Friday during the year all Masses in this Church are for those whose names are on the Altar List of the Dead. If you have a name that you'd like to add to our list forms/envelopes are available at the back of the Church and can be returned to the Sacristy or the safe at the back of the Church. No offering is requested or required.

The Three Tenors Will be giving a concert in the Parish Church on Sunday 8th December. They will be joined by the Choirs of St Brigid's Boys and Girls Schools during the Tickets are €25 and will be available for sale in the Parish Office shortly. Tickets can be pre-booked – ph 2858835.
Syria and Philippines Special Collection. Archbishop Diarmuid Martin wishes to thank most sincerely all those who donated so generously to the Special Collection for Syria and the Philippines last weekend. The sum collected will be announced at all Masses.
Coming Soon, New Mobile Version of our Website. We will keep you updated!!